Leather, noble, lively and natural
The various leathers are sourced from the best French and European tanneries and tanneries working in an eco-responsible way.
Discover the collections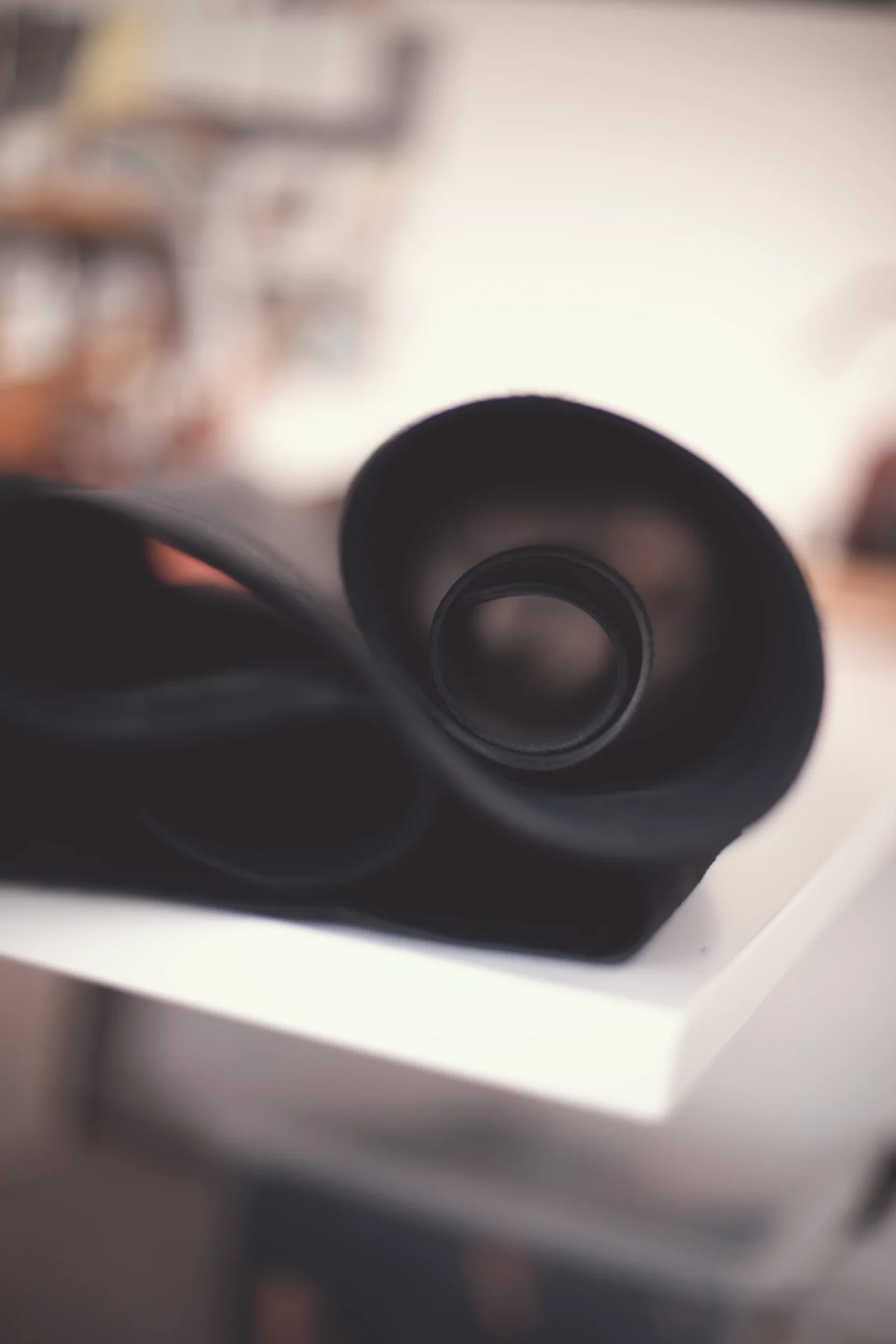 Discover unique, eco-friendly
materials
Leather is a noble, natural material that I've always loved. The use of full-grain, vegetable-tanned leather preserves its natural appearance. Dyed in the mass, it acquires a patina over time that makes each leather goods item unique.

The various leathers are sourced from the best French and European tanneries and tanneries working in an eco-responsible way.
Discover our tailor-made collections
Leathers

Compose the exterior look of your leather goods
Baranil®: black or brown
Full-grain calf leather with nourished vegetable tanning, pure aniline, from the Degermann tannery in Alsace, giving it a natural, smooth appearance.
Ecopell leather: velvety black color
Full-grain vegetable-tanned leather, pure aniline, ecological Ecopell certified ECARF, BIOKREIS and IVN, from the tannery ECOPELL GMBH . Each stage of production, from animal rearing to hide finishing, is carried out with the aim of reducing energy expenditure, eliminating all harmful products (heavy metals, allergenic products...) to obtain the most natural hides possible.
Natural leather: beige color
Full-grain leather with no surface treatment, showing all the natural marks of the hide. It is delicate to care for, sensitive to light and will darken in color over time. Beware of tanning marks!
No claims can be made for any defects or natural marks on vegetable-tanned leathers. These are part of the product, giving it all its charm and guaranteeing a 100% natural product and the uniqueness of each hide.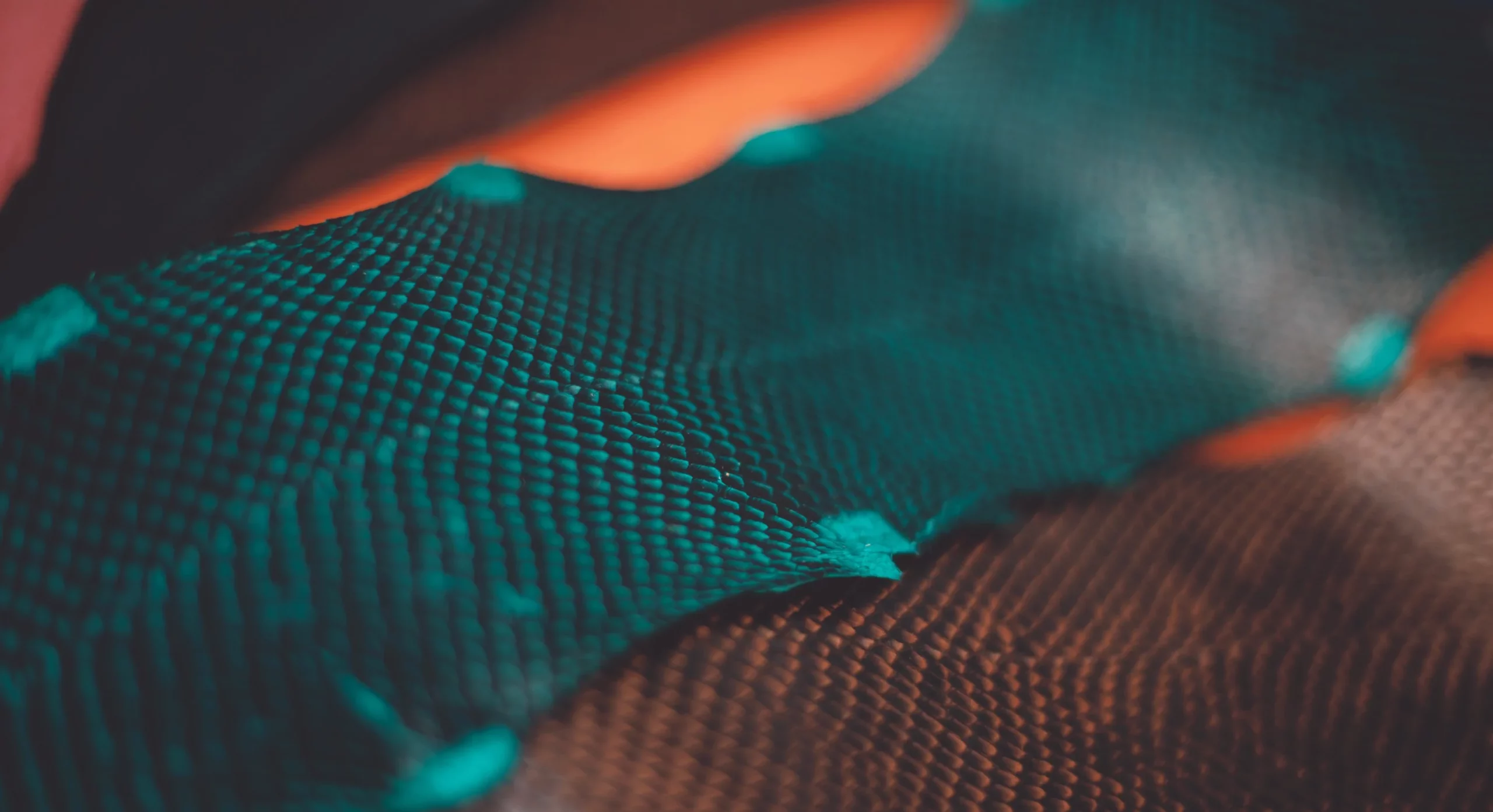 The marine leathers come from ICTYOS, a tannery based in Lyon. It combines the traditional know-how of a French tannery with an eco-responsible approach, transforming fish skins from the food industry into marine leathers. To guarantee the highest quality marine hides, ICTYOS tanning processes require a careful selection of the finest fish skins from French agri-food partners. To control the traceability of supplies, ICTYOS relies on a network of local partners, and thanks to this short circuit, reduces its carbon footprint. By recovering skins originally destined for destruction, ICTYOS in no way increases fishing, and makes intelligent use of existing resources in an upcycling logic.
ICTYOS prefers vegetable tannins made from leaves, roots or fruit (mimosa, chestnut, quebracho) to minimize the impact on deforestation. The marine leathers used to make my leather goods are mainly salmon, sturgeon or trout leather. The multidirectional organization of marine fibers and the development of a tanning process perfected over 3 years make this leather the most resistant and finest in the world. Leathers are tanned in compliance with the European REACH standard, guaranteeing the absence of harmful, toxic or polluting elements in the processes. It's a 100% vegetable-tanned leather, hypoallergenic and ennobling over time.
Range of colors
The Squama R gradient range (solid color with a more pronounced scale pattern)

Bourdon

Carmine

Émeraude
Sierra

Tempête

Verglacé
Squama R gloss range (solid color with glossy appearance)
Rouge Cardinal

Noir Encre

Bordeaux

Bleu Atlantique

Bleu Adriatique

Vert Anglais
Nova R gloss range (sturgeon leather)

Caviar

Bleu Léman

Orange

Ebène

Cognac

Acacia
Nova R matte range (sturgeon leather)

Basalte

Bleu Baïkal

Orange

Tonka

Acajou

Sable
Choose the color of your
jewelry store
In order to customize your leather goods I suggest you choose the color of jewelry.
Jewelry is all the metal elements present on a leather goods item.
Chains, zippers.
Handbag feet, snap hooks.
snaps, clasps, buckles, etc …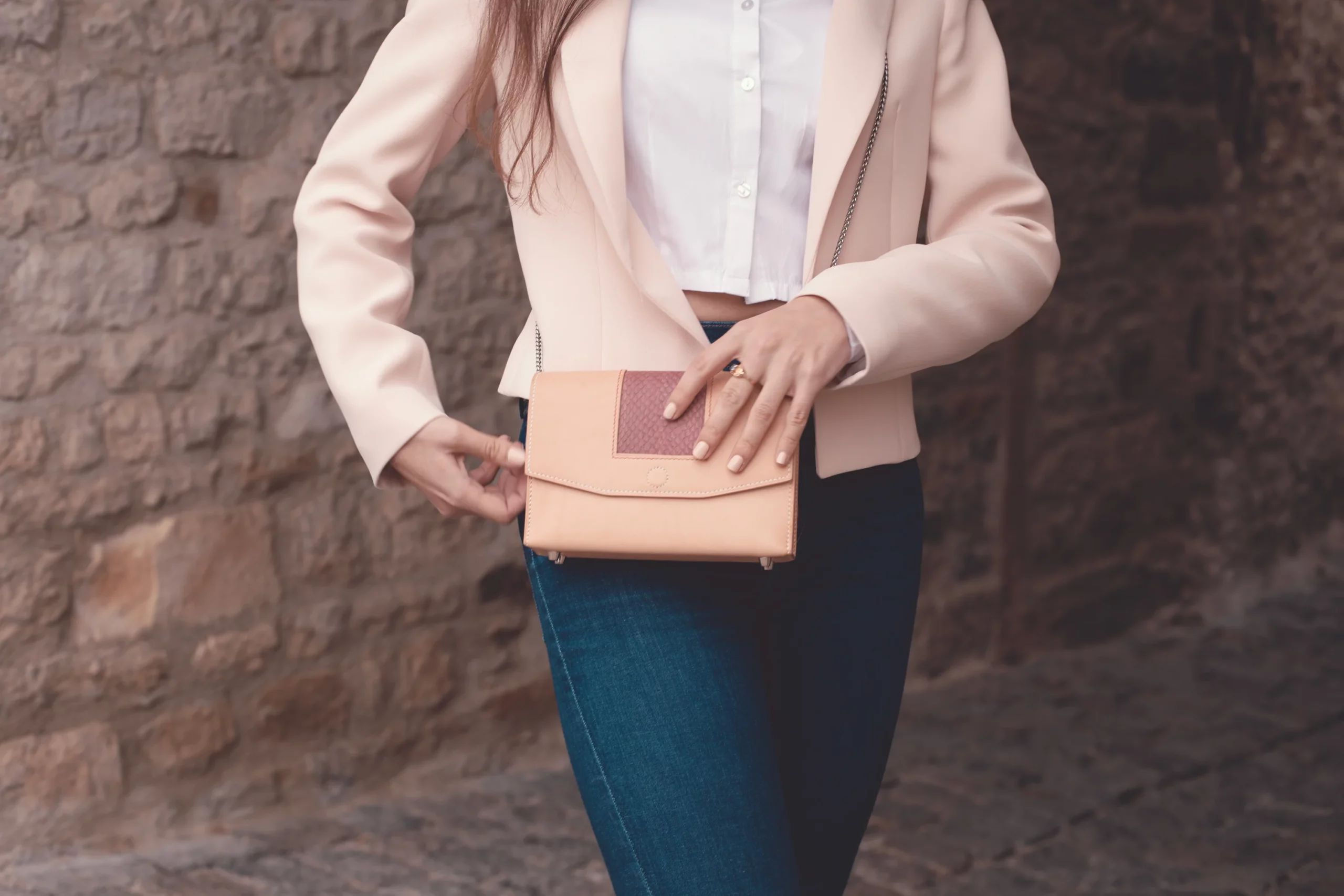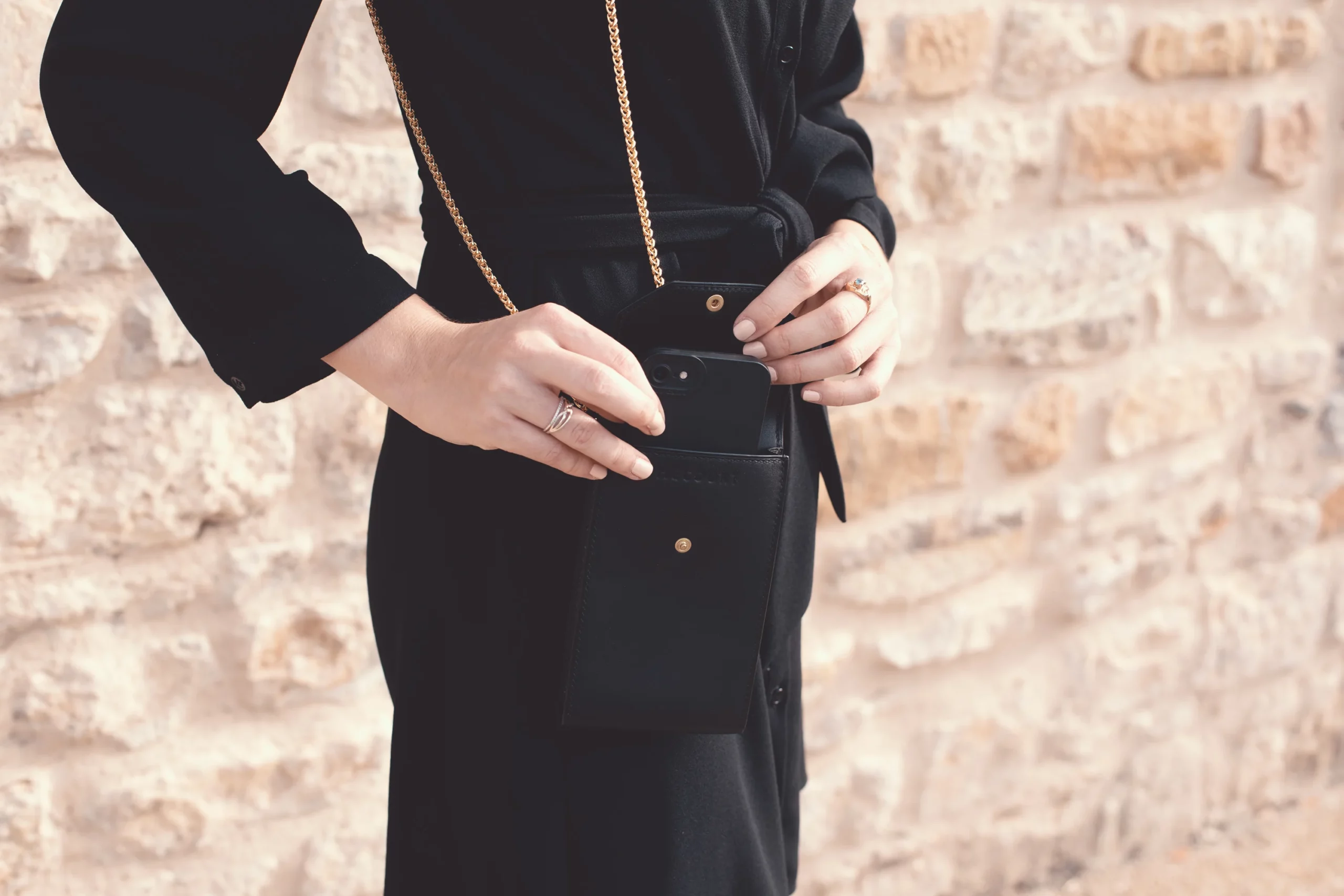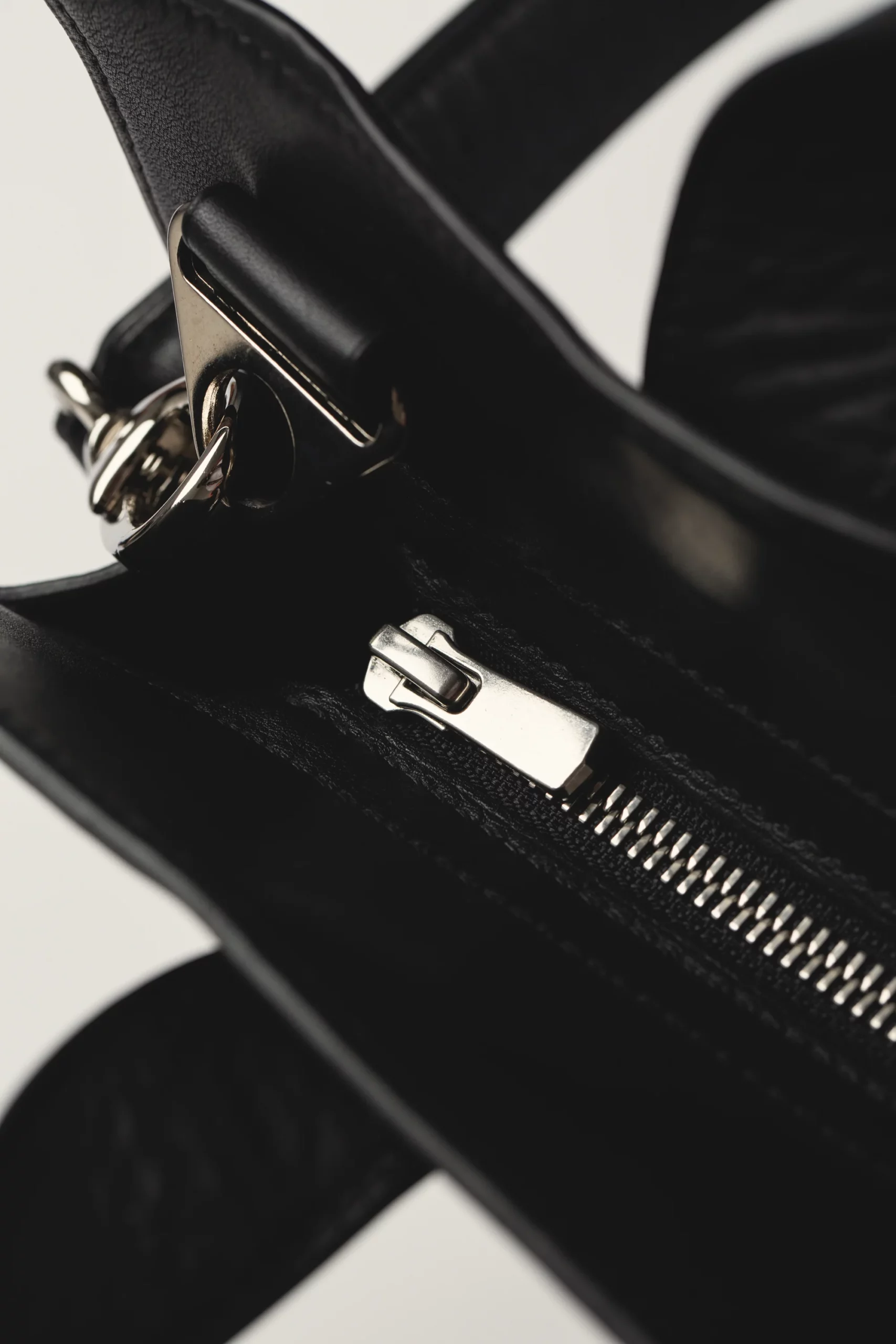 The quality of the
finishes
I learned the finishing techniques that will make your item worthy of the exacting standards of craftsmen in the great tradition of French luxury from a leading House of high-end leather goods
Linings :
The textile linings are made of OEKO-TEX® certified fabric, it has been checked at every stage of the treatment: raw materials, yarns, dyeing. It does not contain harmful chemicals. Lamb leather retains its natural appearance and originally required a virtually flawless hide. It receives no finishing, which is what makes it so soft. Leather linings are made from lambskin.
Zippers :
The zippers are by YKK, a high-end Excella® model in polished metal, manufactured in Seclin in northern France since 1972. In 2020, YKK signed the Fashion Industry Charter for Climate Action.
The delivery pouch :
Each leather goods item is delivered in an organic cotton pouch. It will protect your leather goods from dust and light when not in use.